Meet Our Phoenix Dentists and Orthodontists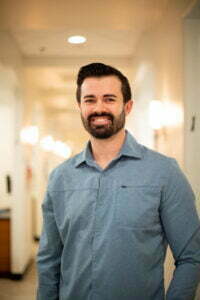 Dr. Clayton Corbridge, Co-Owner/Operator, Desert Sky
Clayton Corbridge D.D.S. – Dr. Corbridge dreamed of being a dentist since his first dental visit as a child. While shadowing dentists as a high school student, he witnessed the impact that quality dentistry can have in a person's life. He realized the importance of dental health and how crucial it is to total health. He believes in persistent prevention and conservative correction of dental concerns. He treats patients with a family mentality and encourages his patients to take control of their oral health.
Personal Interests
Outside of dentistry, Dr. Corbridge prioritizes spending time with his wife and 3 boys. He enjoys fitness, mountain biking, golf, and motorsports. He loves Latin culture and has spoken Spanish since first grade. After living in Guatemala for 2 years, he continued learning Spanish and became a certified medical interpreter with the University of Utah. Though he was born in Glendale, AZ, this Phoenix dentist grew up in Utah with his 4 siblings. He has returned home to Glendale and enjoys living in the desert again.
Professional Education
DDS degree, University of Utah School of Dentistry, SLC, UT
B.S. degree in Biotechnology, Utah Valley University, Orem, UT
Practical Clinical Courses with Gordon J. Christensen and John West
Implant Seminar Course with Dr. Arun Garg
Professional Activities


Dr. Pooya Haghoust, Co-Owner/Operator, Alta Sky
Upon graduating high school, Dr. Pooya realized dentistry would allow him to maximize his abilities to make a difference in people's lives. Although he enjoys all aspects of dentistry, his primary goals are to build long lasting relationships with his patients, create a comfortable and welcoming environment and exceed all of his patient's expectations.
Dr. Pooya graduated in Molecular Biosciences and Biotechnology from Arizona State University. After receiving his Master's Degree in Medical Biosciences from Midwestern University in Glendale, Arizona, Dr. Pooya received his dental degree from Midwestern University in Downers Grove, Illinois.
In his free time, Dr. Pooya loves spending time with his family and enjoys playing soccer or getting out on the green for a round of golf with his friends.

Dr. Blake Robison, Orthodontist
A leader in the field of orthodontics, Dr. Blake Robison's patients and peers recognize him for excellence as a clinician and educator. He completed both his dental and orthodontic specialty training at the world-renowned University of the Pacific receiving the top award given for leadership, scholarship, and service. Upon graduating, the university faculty invited him to teach at the school and pursue a Doctorate in Education and Leadership. During this time, he started a practice in downtown San Francisco and became the youngest practitioner to be recognized as one of America's Top Dentists. He has written several articles and traveled extensively as a sought-after speaker and panel member on orthodontics and dentistry.
Giving back and community involvement are passions for Dr. Blake. He has served on several school board, government and organized dentistry committees and for years as a cub scout leader and youth sports coach. He helped start the Smile Back Foundation providing dental and orthodontic care to those in need and has traveled to Africa and South America as part of cleft lip and palate and dental teams.
Contact Your Sky Dental Phoenix Dentist
Contact our team to learn more about our skill set. Our Phoenix dentists and orthodontist are proud to serve the greater Phoenix area.

Dr. Jonathan Robles, Co-Owner/Operator, Sierra Sky
Dr. Robles is originally from Yuma, AZ.  He attended Arizona State University earning a Bachelor of Science degree in Biological Sciences.  His compassion for those in need drove him to attend Midwestern University College of Dental Medicine – Illinois.  During his tenure, he attended externships with DuPage County and Cook County Dental Health Clinics along with an external rotation to Core Hospital Cook County to complement his dental education.  In addition, Dr. Robles volunteered as a Spanish interpreter for a community health clinic on the west-side of Chicago.  Missing the warmer weather, Dr. Robles has been practicing in Arizona since 2016.
His true joy lies in his ability to be able to help patients overcome their fear and anxiety when it comes to their Oral Health. As the gateway to the body, he believes improved oral health care leads to better overall systemic health.
Dr. Robles and his friendly staff are very excited to meet you! 
Personal Interests
Apart from the dental field, Dr. Robles loves spending time and traveling with his wife and daughter. When he isn't getting his passport stamped he enjoys hiking, golfing, and football. Go Cardinals!
Professional Education
Doctor of Medical Dentistry : Midwestern College of Dental Medicine Illinois

Biological Sciences, Bachelor of Science : Arizona State University
Professional Activities
American Dental Association

Chicago Dental Society         




Illinois State Dental Society




Arizona State University Alumni Association

Arizona Central Dental Society


Dr. Sarah Eissa, Associate Dentist, Sierra Sky/Alta Sky
Dr. Sarah was born and raised in Windsor, ON. She completed dental school at the University of Detroit Mercy School of Dentistry. She graduated in 2018 and has been practicing dentistry for more than 4 years.
Dr. Sarah moved to Arizona in the summer of 2021 after marrying her husband.
Dr. Sarah enjoys hiking, exploring Phoenix, watching movies, playing Nintendo Switch, and spending time with her family.
Her love for dentistry and passion to help others made it possible for her to volunteer her time at a free dental clinic in the Dominican Republic.
Dr. Sarah is excited to be in Arizona and provide care for the community here. She always goes above and beyond to ensure that patients are comfortable and receive the best care possible.

Annel, Dental Hygienist, Desert Sky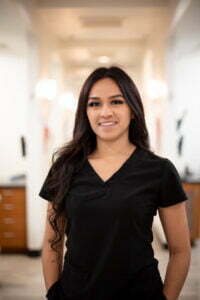 Jada, Dental Hygienist, Alta Sky