Sky Dental Chandler: Dental Care for a Lifetime
Sky Dental's Sky Dental Chandler Location
We invite you to make an appointment with Sky Dental Chandler. We are conveniently located on East Riggs Road near the intersection with South McQueen Road.
If you are putting the address into your maps app, please note that our dental clinic address is 975 East Riggs Road, Suite #8. We are located near Bear Creek Golf Complex, Springfield Golf Resort, and SunBird Golf Resort. Sky Dental Chandler is proud to call many of our patients neighbors in the local Sun City retirement community.
Personalized Dental Care You Can Trust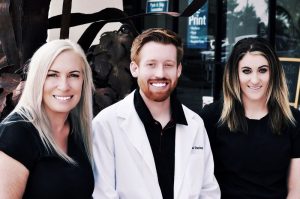 Our patients know they can rely on our experienced dentists for a wide range of services, from preventive care and cleanings to more complex procedures like root canals, implants, and braces. We're also proud to offer cosmetic dentistry services like teeth whitening and veneers.
Sky Dental is a small dental business and not a big corporate dental office. We are a practice of like-minded dentists with advanced skills and a passion for expert dentistry services for all customers of all ages and stages. Following this mindset, Sky Dental Chandler's goal for every patient is to create a beautiful smile that can be enjoyed for a lifetime.
Dr. Scott Connell is an industry leader committed to providing high-quality dental care for all Sky Dental patients in the Chandler and Phoenix areas. His dentistry background makes him uniquely qualified to handle services from the most complicated general dental procedure to the most refined cosmetic dentistry services. Dr. Connell believes there can be no compromise on the quality of dentistry that we provide to our patients.
The Dentist That's Your Partner in Better Oral Health
Our dentist team wants to be your partner in good oral health. One reason we have so many dental team members who can speak Spanish and English is to ensure all of our AZ patients receive customized care that works best for them. This is essential for family dentistry and indeed all patients.
Professional. Affordable. Dental Care for Your Needs.
Prevention is the cornerstone of dentistry. Whether you are worried about gum disease or aren't aware of any teeth problems, it is essential to keep your regular appointments with dental professionals and keep cavities and tooth loss at bay. At Sky Dental Chandler, we are committed to helping you enjoy a vibrant, healthy smile throughout your entire life. We accept many types of dental insurance and will work with you if you do not have insurance.
Call Sky Dental Chandler Directly at (480) 895-3252
975 E Riggs Road Suite 8
Chandler AZ 85249
Office Hours:
Monday: 8am – 5pm
Tuesday: 8am – 5pm
Wednesday: 8am – 5pm
Thursday: 8am – 5pm
Friday: Closed
Saturday: Closed
Sunday: Closed